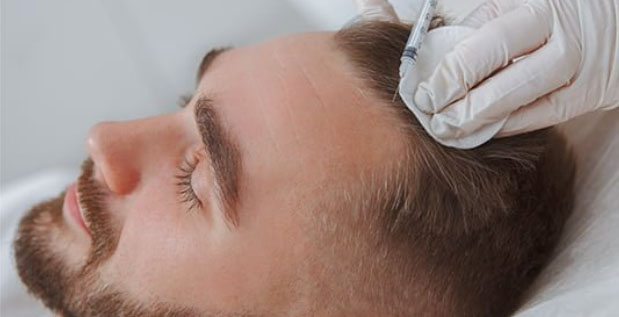 What Is the History of PRP For Hair?
PRP was initially developed in the 1970s for surgery but has since been approved for multiple fields including cosmetic surgery. Since then, it has become one of the most popular hair growth treatments on the market!
Prior to Treatment
At the start of your appointment, we'll draw a small vial of your blood in one of our treatment rooms, no different than the process used for blood work. We'll place the sample in a centrifuge to separate the plasma, a process that takes about 10 minutes.
During Treatment
Once the platelet-rich plasma is prepared, your provider re-injects the plasma into the treatment area. It can also be applied topically when combined with some other facial rejuvenation procedures. This may cause temporary discomfort, inflammation, or redness but any side effects should resolve themselves quickly. Depending on the treatment plan and target areas, this process can take as little as 30 minutes.
After Treatment & Results
Your provider will discuss any further treatments that may be planned or recommended to help you get your best results, or other treatments that you may combine with PRP for enhanced results such as fillers, neuromodulators, and laser treatments. You'll also be provided with Dr. George's personal contact information if you have any serious concerns outside of our normal business hours.
Results vary depending on what hair loss is being treated and your own platelets. It's possible to see results in four to six weeks, especially when combined with other treatments, but most patients see results in four to eight months, or three to four treatments. We space treatments four weeks apart.
Why Receive PRP For Hair Growth at Wilmington Dermatology Center?
The PRP procedure is a very effective and safe procedure when completed by an experienced professional. It's important not only to have the right tools for taking blood, extracting platelets efficiently, and injecting plasma, but to know where and how to apply the plasma for maximal results.
Our experienced team, led by the highly awarded Dr. Rosalyn George, is intimately familiar with where and how hair loss occurs, often providing optimal outcomes faster and with fewer sessions than other providers.
PRP Frequently Asked Questions
How long will PRP appointments last?
The PRP procedure can take as little as 30 minutes, but may take longer, especially if we're combining with any other treatments or procedures.
How many treatments will I need?
Most patients achieve their desired results in three to six treatments, but you may require more or less depending on your goals, target areas, and platelets.
Can PRP treatment be painful?
While injection itself may cause mild pinch or pressure, platelet-rich plasma for hair growth is very close to your natural pH levels, meaning it's less likely to cause a stinging or burning sensation. You may experience very temporary discomfort, inflammation, or redness at the application site.
Is PRP safe?
Because the autologous Platelet-Rich Plasma (PRP) is produced from a patient's own blood, there is virtually no risk of an allergic reaction or rejection.
How is PRP at WDC different from other PRP procedures?
Our advanced process and centrifuge system allows us to complete the PRP procedure with less blood, in fewer steps, and with optimal platelet recovery (87% ± 10%). We can customize your plasma's volume and concentration for your safety, comfort, and best results.
How long will the positive effects of PRP last?
Results can last for years, depending on whether you protect and treat your skin, the condition of your skin and hair loss, and your platelets. Further treatments may help maintain results.
What is Platelet-Rich Plasma?
Platelet-rich plasma, also known as PRP, is a high concentration of your own platelets in a small volume of plasma.
How far apart do the PRP treatments have to be?
We recommend four to six weeks between sessions to allow for full healing time.
How Much Does the PRP Procedure Cost?
The cost of PRP depends on many things, including your treatment areas and goals, but largely comes down to how many treatments you need to achieve and maintain your results. Each treatment is $500, and we offer a three-treatment hair growth package for $1,400. We can discuss your treatment plan and more specific pricing during your free consultation.
Please download and view the PRP pre-visit instructions ahead of your visit.
Please download and view the PRP post-care instructions to follow after your treatment.